look at it tumble…..its only money….it will go back up..
thats what my grandpa said in 1931 as his wife and children pelted him with rocks.
if he had held his stock in 1931 when it was at its worst,  by WWII he would have been wealthy.
i got no problem with Free Soup except , gee, it looks like a long wait.
here is my new quite large  George Washington painting, he isn't sweating a light downturn. if you spent 3 months outside freezing  with no food or heat in Valley Forge and lived through it  then it would take a lot to be worse than a slight downturn to bring you down.,.,,,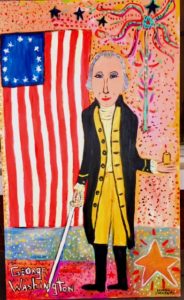 still i wonder,  does bread come with this soup.(see the tiny 'free soup' sign on the window…?..?..gluten free..?.these guys later went into a seething mad riot when the owner refused to say whether or not the soup was GMO free ,so suspecting not, the men killed each other moments after this photo was taken. on the same spot where this free soup store was,  there is now a Whole Foods and a bowl of soup costs 24 dollars.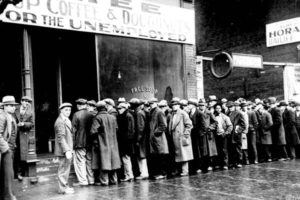 happy holidays…
and here's a holiday thought that i wrote for you..
it was the night before christmas and all thru the house, not a person was sober not even the cows..the old paper sacks  were hung by the chimley (sic) with care, in hopes that the Pizza Hut man would soon be there.
the children had been on Instagram for 14 days straight and you hoped they would get off it , but you know its too late. the children you raised to study  and learn now were brain dead addicts alone in their rooms
you called your wife to come to your aid, but she screamed that on Faceboook a new post had just been made , which made her so angry her blood it did rage.,.
the Pizza Hut man came and left a stack of dough and fake cheese, which all the kids  ate with  rapid feral glee.
in the mornings first light they entered the Apple Store and no more would you see them,  no nevermore.