here is a 1947 photo of 12 year old Memphian Betty Joe Howell , on left, who killed her abusive 62 year old step father with a butcher knife. i dont think that is him in the photo, it might be…..but thats her mom on right.,he knocked her mom down and  he pulled a shotgun on Betty Joe when she wasn't fast enough bringing in some firewood…. so whats a girl  gonna do,,,?…stab stab stab..
i am working on a Memphis Crime/Art  book…specifically murders.. from the old days ,,,,1920s  and 1930s ..it will be an art book about some of  the murder cases. all are from Memphis Public Library records which were donated by the Police Department.. the brief details and number of murders  from when Memphis was such a small town are shocking. i expect to be ostracized by hysterical people,  probably.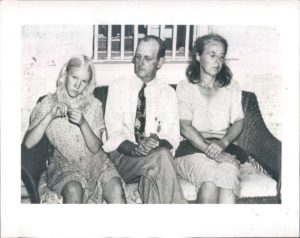 NOTE ..if, in the past you have made a painting request and i never did it..it doesnt mean i dont want to.  it means i have forgotten….or haven't gotten around to it….please, send me an email again if you still want it….it will not bother me at all..!…
i am getting really old and i cant remember things.,. i have no assistant, i make notes for myself then i lose the notes….