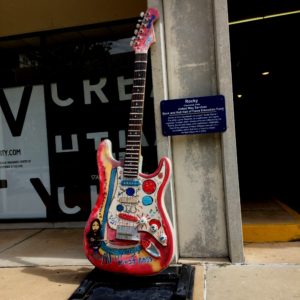 this guitar is a giant….i painted it a long time ago for a
Rock and Roll Hall of Fame benefit,  it was shipped to me in a big crate. the guitar is about 8 feet long and weighed  a ton.
when i got it it was just white plaster. i took the sides off of the crate and had to lay down on the porch and paint it while i was inside the crate. because it was too heavy to lift and too tall to go in the house.
it was tedious.  when done,  i put the sides back on the crate and they came and got it in a truck. i dont think they paid us to paint these, i cant remember ,  i dont even remember how i got involved. it was fun to look at it when done but it was hell to paint it laying down. i was never informed what happened to it or where it went,  that's usually par for the course when you donate things, once they get your item  that you created for them  , they dont want to communicate with you any more at all..
baseball is back…!..already the Cardinals are trying to repeat last season, although they made some improvements they will not be able to compete with the Brewers or the Cubs. The Cardinals make too many errors (not naming any names.!) i am the only person i know who even cares about baseball so lets stop here.