this is the post office where I keep my posts. If you like any of them , you can select them to be mailed to a friend or a shut-in , that might enjoy them.  Post office hours are 9 to 4 weekdays, unless there is a holiday. As you know , the U.S.Post Office celebrates 289 holidays per year, whereas I do not. I celebrate Christmas and St.Vitus Day and that's all.
i have returned to painting and have just posted a new one for sale. Will more follow, who can say.? Who can know..?….
today I felt the need for a milkshake which I discussed with Ellen at The Mail Center and she recommended Chick-fil-A which I am very afraid of because of the crazy parking lot and the massive number of cars in the drive up. Nonetheless,  I went and got there ok and I turned into the drive way that was boldly lettered as Exit Only and I parked and walked in, so I could not get stuck in a line of cars.  I got a shake, minus the cherry and whipped cream because I hate cherries. I also said , ok, I will also have the chicken sandwich. I haven't been there in 5 years.  I eagerly walked back out into the 98 degree heat, thank you Mr. Heat Dome from Hades..!…and took my treasure home……my god, it was so good ..!, I felt like I had discovered gold or some precious edible gems.
Al Green eats there ….  sorry, Al 's painting is sold…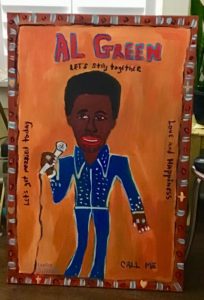 I know that a lot of hipster urbanoids won't go to chick-fil-a and this is fine with me ! ..Less people in line because I'm going back REGULARLY.
'do these chickens have large talons….?'….
if you ask the clerk that question when you order, you will get 25 percent off your total price. It is an unpublicized special and it is good thru Thanksgiving. Thank me later..